November 10, 2007
All Deluxe CSS Templates are now only $25 and there is a new addition, Template Surfer. This premium template includes not only a working newsletter form but also a fully functioning php contact form. I have another Deluxe and Free CSS Template on the way as well so get ready.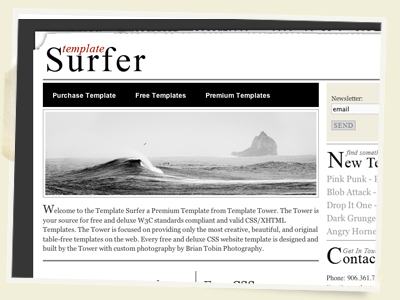 Looking at templates is a great way to learn CSS because you can look at the code and the corresponding images to see how the construction was done. Templates also save a lot of time and can greatly increase profits. Well that was my little pitch so make sure you check out all the websites on Template Tower.
I know many of you are wondering where the latest vectors are and don't worry they are on the way! It has Ben Blogged!
Comment