October 7, 2007
Well, I decided to create some free vector musical instruments this weekend. The style of these vectors is fairly easy to create and the results are very unique. All it takes is a steady hand and a slight adjustment in your thinking.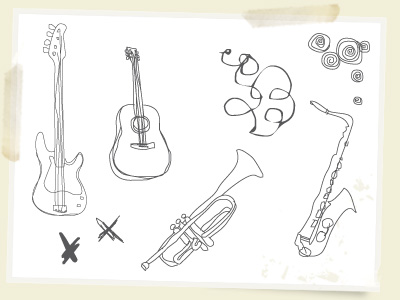 Even though I love working with splatters and grunge I still like things somewhat structured so this style really puts that to the test. When you do vector drawing using the brush or pencil tool you just have to not worry about it being perfect because that's the point, its supposed to look sketched.
If you want to create your own graphics like this just find an image you like, or a drawing you scanned, and then trace the major lines. I always think its cool when sites have hand drawn buttons, text and graphics… so give it a try. This one has Ben Blogged.
Free Vector Instruments – Illustrator CS2
Free Vector Instruments – Illustrator 8
Comment